Rodeo Time!
Despite having grown up in Kansas, a very agricultural state, I have never been to a rodeo. Fortunately, my journey took me up through Cheyenne during the Frontier Days celebration. Two friends from Denver met me there after I left Rocky Mountain National Park. Since we bought our tickets late, we only had the option to sit in an area whose view was partially occluded, but we were still able to see most of the action.
As I went through the bag check, the attendant told me that no lenses longer than 300mm were allowed. I was rather annoyed by this as I had checked the website for any information on restrictions to avoid this specific scenario. Fortunately he said I could leave it in my bag so I wouldn't have to take it all the way back to my vehicle (we had used the Park and Ride option and were bused in from a parking lot several miles away). Well, I decided to break the rules anyway, if only for a few shots. I couldn't just sit there with a 150-600mm super telephoto lens in my bag and not use it, could I?
I have to say, being a bronco or bull rider looks to be an incredibly unpleasant experience. The violence that is done to your body as a large animal violently attempts to throw you from your back looks very painful. Not to mention what may happen if one of these animals were to trample you or a bull were to gore you.
Still, I can appreciate the skill involved. There were plenty of riders who were thrown from their horse or bull as soon as they left the gate. And since the qualifying time to even be scored is only eight seconds, those who can do well must be skilled and dedicated athletes.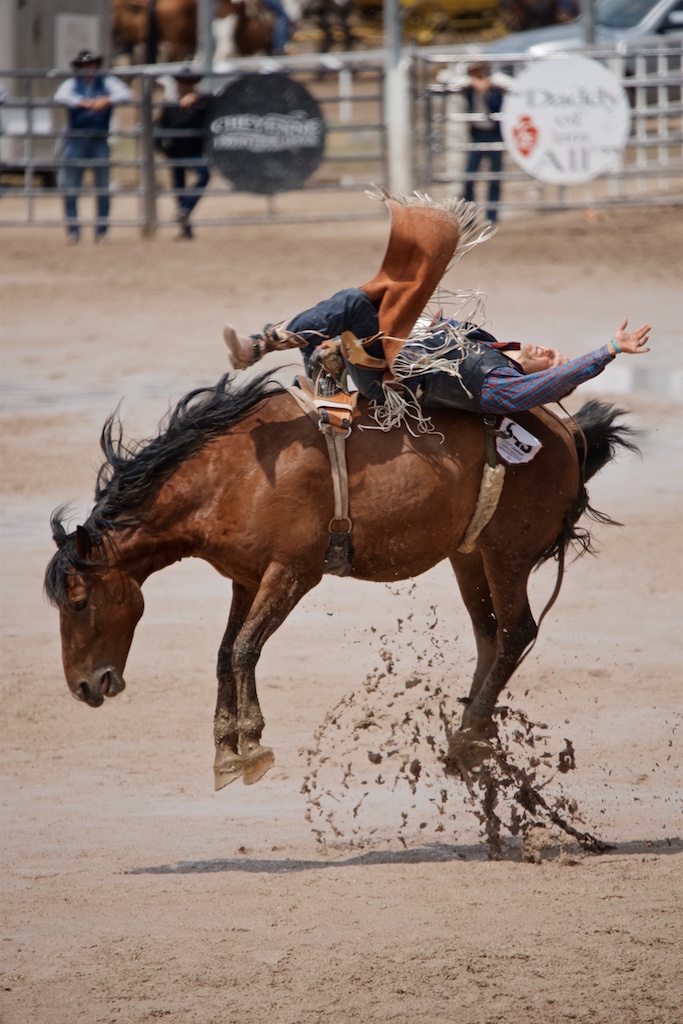 However, I can't help but feel bad for the animals involved. I can't imagine that this is the preferred way of living for these creatures, especially those steers who get chased down and wrestled to the ground for sport. But the audience sure loved it.